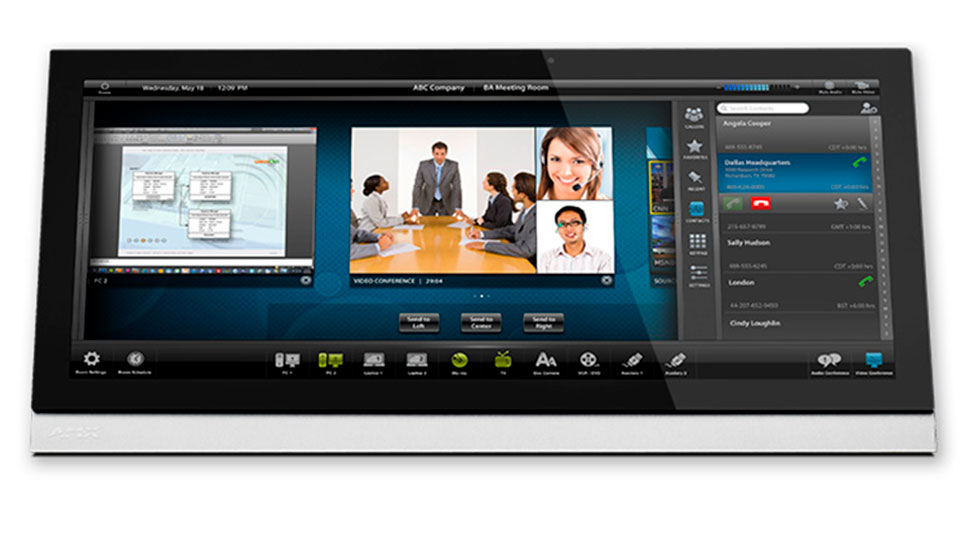 10.1" Modero X® Series G5 Retractable Touch Panel
OVERVIEW
The MXR-1001 / 10.1" Modero X® Series G5 Retractable Touch Panel is a 10" Modero X G5 Touch Panel that can be mounted within the table such that it is flush with the table when not in use. The motorized mount raises and retracts the panel with the press of a button or via NetLinx control.

The MXR-1001 reduces clutter by mounting the control panel directly in the table, where it is completely hidden when not in use. This stylish, full-featured Modero X G5 10" panel is designed to look great when open or closed, retaining the legendary Modero X elegance while saving table space.

This custom-engineered retractable panel is thin in design, but packed with features. It includes all the key G5 capabilities that customers love, including fast and smooth animations and transitions along with a quad-core processor that provides more than enough processing power to run the most demanding applications today and in the future. The MXR-1001 also includes a built-in web browser and document viewers, enabling users to access real-time information during meetings or lectures. The MXR-1001 also offers edge-to-edge capacitive touch glass with multi-touch capabilities along with support for Near Field Communication™ (NFC) Technology to allow personalization of the user experience.

COMMON APPLICATIONS The MXR-1001 is ideal for high-end conference rooms, boardrooms and classrooms that require:

A premium, elegant user interface that stays out of sight when not in use

A clean, clear table surface

Multiple user interfaces on the same table

FEATURES

Hideaway Panel – Saves space and ensures that high-end rooms retain their premium styling by remaining flush with table when closed.
Reinforced Thin Panel – Panel is sleek and thin, while unique hinge design ensures that the panel remains sturdy when users press on it.
Motorized & NetLinx-Controllable – Raise or lower the panel based on room occupancy, macros, or NetLinx events Premium Modero X G5 Control Panel – In addition to the G5 graphics engine and Quad Core processor, the panel includes NFC, Camera, Microphone and Bluetooth.

COTIZAR